Managed VPS hosting can be very expensive. You probably know that. But do you know that you can buy a Managed VPS hosting in the price of shared Hosting? Sounds interesting, isn't it?  Well in this post, I am going to tell you about an affordable managed VPS hosting provider.
Before, we jump into the details, let's check some interesting facts about Managed VPS Hosting.
What is a Managed VPS Hosting
Managed VPS Hosting is a complete managed service where you do not need to worry about anything related to server management. In Managed VPS Hosting, your service provider takes care of the entire server maintenance like updating the core, software installation, backup, security, and more. So, as a business owner, you need not worry about server management and can invest your time and concentration on growing your business further.
Introduction
Well in this post, I am going to talk about Scalahosting. The company was founded in 2007. Initially, they are providing VPS hosting but later they provide shared hosting and other hosting services.
The hosting company has some robust server uptime and good resources to provide excellent web hosting services. They have currently 50k+ satisfied customers with 700K+ domains hosted on their platform.
The company also has dedicated research and a team of developers who are actively building and integrate some in house tools and Apps to make the hosting easier.
Managed VPS by Scalahosting
When we are talking about VPS hosting, there are plenty of VPS hosting providers are out there. But most of them are very expensive and you cannot afford it until you have an established website that is generating revenue for you.
Scalahosting is providing managed VPS hosting at an affordable pricing. You will get exciting features and benefits by paying just a price of shared hosting services. Really So Cool.
Let's check out some of the features that you will get with their managed VPS hosting:
1. Cloud server
All of their managed VPS hosting comes with cloud server that means your website will be super fast. Clouds sever works best when it comes to superior network uptime and fast page loading speed.
2. Fully Managed Services
As the name suggested it is fully managed VPS hosting. You don't need to managed the server or have to hire someone to do it. All the services are managed and handled by the hosting team. All you need is to create and grow your website.
3. SPanel VPS Control Panel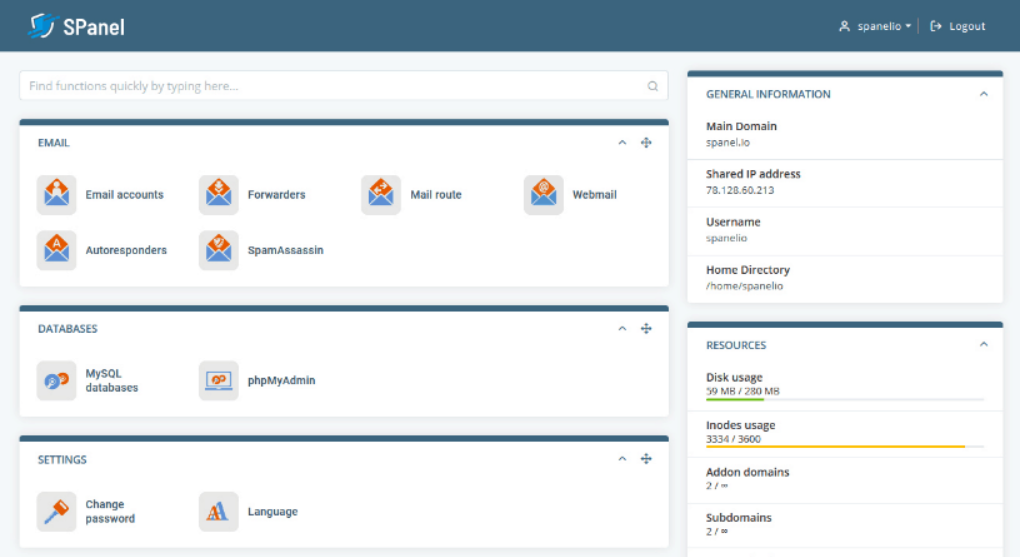 They have their in-house control panel named SPanel. It is very much similar to the cPanel and you cannot find any difference. The best part is cPanel is eating lots of server CPU and Memory whilst SPanel takes minimum server resources. You can get this control panel free with their managed VPS services to manage your website.
4. Free Website Transfer
Transferring an existing website can a tricky and time consuming job. Don't worry; they will easily transfer your website without any downtime and hassle free. It's free of cost with their every plan.
All you need is to contact their support team and they will transfer your website.
5. SShield Cybersecurity
Security is very important when it comes to operate a website online. Your website can be easily hacked by cyber criminals.SShield is the ultimate cybersecurity tool. It blocks 99.98% of web attacks and monitors your website 24/7.
It also protects your website from DDOS attack and malicious hacking attempts. Similarly prevents malware attacks, un-encrypted file transfers, unauthorized access, and IP address hijack attacks.
6. SWordPress Manager
Here's come the best part. If you are a blogger and using WordPress as your CMS. You can use their awesome tool name SWordPress Manager. It allows you to easily Clone, stage, backup and restore your WordPress easily. Add multi-level security and control to your WordPress site.
7. Excellent Network Uptime
Scalahosting is providing industry best network uptime. They offers users a 99.9% uptime guarantee.
We also tested the performance and speed of their VPS servers. Results showing that their VPS servers are much faster.
8. Excellent Customer Support Team
Customer support is very important when it comes to choosing a web hosting company. You probably won't go with a hosting provider who has poor customer support services. But believe me, Scalahosting has some industry-best customer support, team.
Whatever is your problem they are always ready to assist you and resolve your queries quickly. They offers 24/7 live chat support.
Pricing
We have discussed about the benefits of using their managed VPS hosting. Now let's talk about their plans and pricing they offers. They currently providing 4 plans on their managed VPS. You can also customize your server as your need. Let's check them out
Plan 1. Start ($9.95 per Month)
This is a basic Plan of their managed VPS. In this plan, you can avail:
1CPU Core
20GB of SSD Space
2GB of RAM
Daily backups
Dedicated IP addresses
Free SSL
If you are a beginner then you should go with this plan.
Plan2. Advance ($21.95 per month)
This is an upper Plan of their managed VPS. In this plan, you can avail:
2CPU Core
30GB of SSD Space
4GB of RAM
Daily backups
Dedicated IP addresses
Free SSL
If you are an Intermediate user then you should go with this plan.
Plan3. Business ($41.95 per month)
This is the most powerful Plan of their managed VPS. In this plan, you can avail:
4CPU Core
50GB of SSD Space
6GB of RAM
Daily backups
Dedicated IP addresses
Free SSL
This plan suits for larger websites that need more computing power and resources.
Plan4. Enterprise ($63.95 per month)
This is the largest plan of their managed VPS. In this plan, you can avail:
6CPU Core
80GB of SSD Space
8GB of RAM
Daily backups
Dedicated IP addresses
Free SSL
This is a solid plan for large websites that need storage and probably suitable for eCommerce website or a larger enterprises.
Now, Why I said that you can avail their managed VPS in a Shared Hosting price? Let me clear you that. If you sign up for their basic plan which is $9.95 per month and pay it yearly it will cost you around $143 per year. If you consider the pricing, you will notice that many shared hosting providers are providing you the same pricing for their shared servers.
However, I must say that they have managed to deliver on a key promise, and that is making VPS/Cloud plans more feasible. The amount they charge on starter VPS/Cloud plans, most hosts would offer only shared hosting (in some cases, not even high-end shared hosting).
The best thing about them is that they are not overselling like other web hosting companies. This makes them to provide optimum speed and network uptime
Over to you
I am sure; you could not resist yourself after checking out this awesome service provider. So, if you are looking for a reliable and affordable managed VPS provider then I would highly recommend you to try them out. You rarely get managed VPS at a price range of shared hosting. So, don't waste your time just grab it.